How Measurement Keeps You Motivated
"What Gets Measured Gets Done"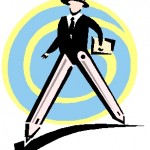 Someone famous said that.  Maybe Peter Drucker or Tom Peters.  Couldn't find a reliable answer when I Googled it.
It's true for me though.  Here is how I know it is.
I asked my son to get me a pedometer for a gift during the holiday season.  I work out regularly at the gym three times a week but other than that I am pretty sedentary.  Somewhere I read you are supposed to take 10,000 steps a day.  I was curious as to how many steps a day I took.
I figured I'd walk a couple of times a week in addition to my workouts.  Well since he gave it to me I have walked nearly every day that I do not workout.  I am amazed that I never get to the 10,000 steps even on the days I work out.
I know if I pick up the pace I will get closer to the 10,000.  When I started I was doing about 6000 steps a day.  I'm up to 7000 steps now.  Soon I should be at 10,000!  I just need to stay motivated to keep improving and I will.
What is true here for my walking is true in my business too.  Focus and measure something weekly. Set a goal, commit to attaining the goal and then do it. How about you?  What are you measuring and improving right now?