10 Ways To Use Leverage In Your Career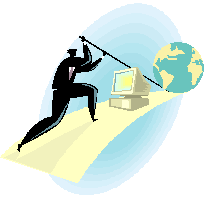 Think of leverage as getting the most "bang for your buck".  With a little effort you maximize your results. It might be investing a few dollars to get more but there are other ways to leverage your efforts. Here are 10 ways to use leverage in your career
Leverage your time – One way to leverage your time is to create something you can use over and over.  An example of that might be keeping a running list of your accomplishments each year.  When it comes time to apply for a new job you can pick and choose the most appropriate accomplishments for each job ad you respond to.  Having a resume that you update each year also leverages your time.  With a few edits your resume is always ready to use.
Leverage your strengths – What are the skills you enjoy using?  These are the ones that are usually easy for you and the ones you excel at.  Find ways to use those skills to benefit your job or job search.  For example if you are someone who enjoys  meeting and talking to people you will  do well at networking with people and speaking to groups of people – two great ways to advance your career.  Others who excel at writing can find ways to write articles and books.  In either case with a minimum of your effort you get lots of exposure.
Leverage your network – It is said that everyone knows 250 people.  Now is the time to use those connections to develop a powerful network.  Ask your current network to introduce you to people who are well connected and have the ability to introduce you to mentors and people connected to companies you have an interest in.
Leverage your connections – Partner with people in your organization who you can help and who can help you.  This might be a boss or colleague that you see as having knowledge or political capital that would be helpful to you.  You can leverage the relationship with those partners by sharing information and ideas with them.  I've seen people get promoted and within a few months they bring along many of their former colleagues to work with them.
Leverage your manager's and professor's good will – Stay connected with managers who know, like and trust you.  Stay connected with professors and college friends too. These people can be useful in a job search and helpful in keeping you current in your profession.  Connection can be by phone, email, or snail mail.  In fact a mixture of all three keeps it interesting.
Leverage your knowledge – Use your expertise to create several different knowledge products on one topic.  If you have written an article to be published, give a workshop on the same topic.  Use a synopsis of the article in your blog or on your website.  Include a link to your article in a Tweet or on your LinkedIn page.
Leverage your technology – Once you have bought into software or hardware and mastered using it then use it in as many ways as you can to get the maximum benefit.  Use your calendar to generate reminder messages for contacting people in your network regularly, for deadline for goals you have set and for birthdays/anniversaries/important occasions.
Leverage your money to invest in support services – This will free up your time to do other important career tasks.   If something takes you an unusually long time to do or if you are dissatisfied with your result, hire someone to help you with it.  Getting your resume done professionally is worth the money if you struggle doing it or worse keep putting it off.
Leverage your money to invest in education and coaching – Taking courses enables you to add the expertise to your resume and it will enable you to qualify for different positions.  One course can open many opportunities.  Choose the course wisely.  If you have difficulty achieving your goals investing in coaching will enable you to achieve success.  Three to six months of coaching will also open many opportunities.
Leverage social media – Social media can be used to follow thought leaders in your field, to find new jobs, and to attract recruiters who are searching for candidates.  It is a double edged sword however.  You can be ruled out permanently if you are not careful what you post.  Used well social media gives you a lot of exposure for a relatively small investment of time.