Time Management Success Through Leveraging
I've had a website and an email newsletter since 1999.  My website has enabled me to get new subscribers for my list and  my list has grown over the years.
This is what my first website looked like in 1999.  At the very bottom of the home page there is a link to my newsletter. At that time it was just Road to Success.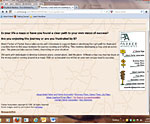 In 2005 the website looked like this.  I had two publications by then, Road to Success and Parker's Points. You can see the newsletter signup on the top of this home page.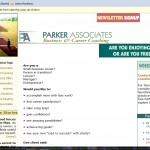 And here is my website now. I still offer both Road to Success and Parker's Points on my home page.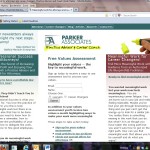 Leveraging is all about doing something once and using it in many ways. Leveraging your successes saves you time and money in your career and work.
For this month's article on leveraging I thought it might be useful to see the ways that I use leveraging in my practice.  Specifically how I leverage the use of the articles I write for my newsletter.
Here are some ways I do that:
If a client or prospective client asks a question on a topic that I have written, I send the person the article.
My website has all the articles I have written for these newsletters from 2003 on.  Check out my archives.   Articles that I wrote between 1999 and 2003 are on my computer but not available on my website.  I've reused them when I didn't have time to write a new article.
I've published my articles on many different websites including Ezinearticles.com and SelfGrowth.com.  That allows others not on my list to read my articles and subscribe to the list if they like what they read.
People have asked me if they can publish one of my articles in their newsletter. I'm delighted to have them do it.  Just recently the Oregon State Bar Professional Liability Fund published an article of mine.  That article came from one I wrote for the ABA Magazine

GP Solo

in 2008  which was an expanded version of  another article that I wrote "Do You Really Need a Business Plan?," which appeared in

Road to Success

in 2002.
Shortly after the first business plan article was written in 2002 I gave a series of teleclasses on business plan writing.
I've taken my articles to networking events and given them to people who seemed interested in my work.
When I make a presentation I leave copies of some articles on a table for those who are interested.
My eBooks are often compilations of my newsletter articles and/or tip lists.
Finally when I write on a topic for the second time I reference the first article I wrote on that topic so my readers have the opportunity to read both.  In 2004 I wrote an article for

Road to Success

on leverage.
How would you leverage your work?  I am eager to hear your ideas.  Do you use leverage in your practice or in your career?    Comments may be written below.
If you have an interest in seeing old websites you can use the Way Back Machine