Can You Get a Pacemaker at 98?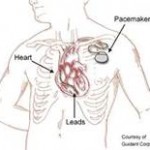 As many of you know my mother who is 98 lives with me in the summer.  Usually I take her back to Florida in October to enjoy the milder climate.  She has aides there but lives by herself and manages quite well.  This year however in September she started gaining weight-not a good thing for someone with heart failure.  The fluid she was retaining made it increasingly hard for her to breath.  Because of this the doctor put her in the hospital and decided she needed a pacemaker.  It wasn't unexpected.  Several times in the past they said they might do it but this time they did.  She came through it "like a champion" the doctor reported but our trip to Florida on October 17th had to be rescheduled.  We'll be going sometime after November 20thbut we have no reservations as yet.
When I first heard two years ago that she might need a pacemaker I was sure that they would not do it at such an advanced age.  They put it off even though her heart rate was very low because of her age but finally they decided that she wouldn't be able to live the kind of life she was used to unless they did it.  Amazing what medicine can do  today!  We are both very grateful that she is doing so well.