Happy at Work – One Job or Multiple Streams of Income?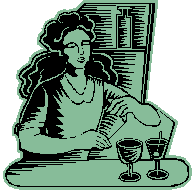 A friend shared with me that her 30 year old daughter, Lois, had just lost her job. The real estate investor that Lois worked for decided to close his business in January 2015. Lois had been analyzing investment property for him and enjoyed the work. Her mother of course was worried about her and suggested she use the next few months to network with different business groups in order to find a new job.   Lois response to her mother was, "I don't need career advice from my mother."
Needless to say my friend was hurt and upset.   In the past when Lois had career issues her mother complained that her daughter ignored her advice. She had asked me to coach her a few times. I was willing as long as Lois called me directly to ask for coaching. She never did. No one can coach or advise someone who doesn't want it. Lois clearly felt she knew what she wanted to do.
Lois actually was working on her own plans. According to her mother she had just signed up for a course to learn to be a bartender. My friend was appalled. Her comment to me was, "We didn't send her to college and graduate school to be a bartender! She has a Master's Degree in Finance. She can do better than that."
Lois already had a real estate license and has been selling real estate even while she worked in her full time job. Her mother told me Lois had been doing a lot of reading about managing her money. She knew exactly how much she needed to live on and had saved enough to manage without a full time job for six months. In her reading Lois found advice on having multiple steams of income so that a person would not be totally dependent on one job. She already had the real estate license and now bartending would be a second.
I was impressed with what Lois had planned and told her mother this. It sounded to me that she had thought through what it would take to make her happy at work and she was implementing it. While I understood her mother's distress over Lois becoming a bartender, I thought it might turn out to be a great way for Lois to network. I shared this with her mother who smiled but still said she was disappointed.
Parents want what is best for their children. They base their suggestions on their own experiences. Times change however and different generations want different work experiences. Lois has chosen her own path – the one that she believes will make her happy at work.
What do you think? Would you be looking for another full time job in your field or would the best choice for you be multiple streams of income?