A Wish For The New Year For My Readers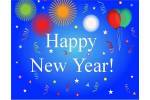 It's time to celebrate the coming New Year.
May you be happy at work and have time for all that you hold dear.
In this the 12th year for Parker's Points and the 16th for Road to Success.
Look for more articles and tips on ways to relieve work and job stress.
There will be more articles for career changers who want to find work that is new.
I hope you discover the work you were meant to do.
For attorneys and business owners who read my newsletter,
There will be tips so that 2015 will be even better
There will also be articles on how to be more engaged at work.
And also some tips on dealing with a boss who is a jerk.
Check my archives and blog for a variety of good articles and helpful tip lists.
The archives start from 2003, the blog from 2010 so take a look to see what you have missed
Happy holidays to everyone reading my blog and newsletter!
May you do meaningful and fulfilling work and may it get even better!
Stuck in a rut?
Do your New Year's resolutions have a familiar ring? Were last year's similar? What is different this year? The difference could be that you hired a coach! I coach smart people who are motivated to make positive changes in their lives and are excited about doing it. If this describes you and you want to make a strong start in 2015 give me a call at 781-598-0388 or email me at asparker@asparker.com