Top Ten Ways to Feel More Confident in 2015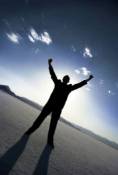 Feeling confident in yourself and your abilities is an important attribute. No matter what you do people will not want to work with you or have you do work for them if you don't confidently tell them what you can contribute. If you don't believe in yourself why should anyone else believe in you? Here are ten ways to help you feel more confident.
Spend some time thinking about your 2014 accomplishments. Congratulations! Feel good about your accomplishments. Make sure to cover accomplishments in all parts of your life- work, family, health, education, etc.
Read this article about acknowledging yourself that I wrote in 2010 and this article also from 2010 on how to feel good about your accomplishments
Write down each of your accomplishments in resume format i.e. Problem solved, solution found, results. These can be used in a resume, an elevator speech or in an interview. Which one makes you most proud?
Read over your list and celebrate your successes. This is something I find challenging. Do something special for yourself in celebration of all your successes. Feeling happy and proud is important to success.
Make a list of you top 4 strengths. Not sure what your strengths are? One way to boost your confidence is to ask your friends and colleagues. It is amazing to learn what they see as your strengths. You can also take an assessment to determine your strengths. Check the strengths that resonate most with you. They are the ones you want to continue to use and develop.
This website has many assessments listed. For the strengths assessment go to the second section, engagement questionnaires, and select VIA survey of character strengths. Click on "take test". You will need to go to the login screen and register. They will email you a report once you have taken the test.
Set your intention to use these strengths at work and in leisure during 2015. You'll need something to remind you to do this. #6 and #7 will help you with that.
Write down 3 or 4 ideas you have about how to use your strengths more at home, at work and with friends and family.
Keep a list of your top 4 strengths with you and refer to it daily. Look for ways to use those strengths that are unique to you. The more you can do that you are uniquely qualified for and that others need, the more appreciation, recognition and positive feedback you will get. This definitely will give you more confidence.
Make a list of what you feel is most important to you in your life (your values). Knowing what is important to you helps you to identify ways to get more of these in your life. Life just seems better when you are working from your values. When life feels better you are happier. You received a values assessment when you signed up for my newsletter. If you would like another, email me at asparker@asparker.com to request the values assessment.
Check to see if your daily schedule reflects your values. Are you continually working on what is most important to you? What needs to change?
If you have a negative voice in your head telling you are not enough, change that voice to positive. Knowing your strengths and values and using them well will help you to keep positive and will make you feel empowered and confident. Use your list of strengths and values to combat that voice. Recall your accomplishments and feel good about them!
Do you have confidence?
Looking for the spark to ignite your confidence? I can help. Sometimes we get beaten down by a job or a team or a boss and start to believe their negative comments. Other times the negative comments just come from your own thoughts. As your coach I'll help you examine the negative thoughts or comments, see what is underneath them and then find ways to combat them so that your confidence returns and more importantly you learn how to combat those negative thoughts in the future. Please call me at 781-598-0388 or email me at asparker@asparker.com