Finding Your Voice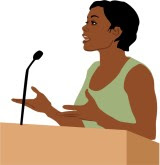 "She found her voice?" the panel moderator stated questioningly.  What does that mean?  Shouldn't she have found it by this time?
These were the questions posed by moderator after the New Hampshire primary election in the US in 2008.  Of course he was referring to what the media was saying about Hilary Clinton.
"Finding your voice" has a lot of meanings.  It could be taken literally.  I get laryngitis occasionally so every time I recover I "find my voice".  That is not what people meant here though.
"Finding your voice" in this context, means finding a way to express your ideas so that you connect with others.  We all have ideas and thoughts that we feel strongly about-especially the ones we value most –our values.
When people explore those values, they are trying to find their own truth.   This is what I would call finding the spark within.  When they talk about this truth they get excited and wrapped up in what they are saying.  In fact sometimes it sparks something emotional in them.   That emotion or passion is energizing to themselves and contagious to others.  It feels very real and authentic to the audience.
Working in an area that allows us to frequently feel that excitement and enthusiasm is what makes a career fulfilling.  How many people lose that feeling of passion because they get busy with the day to day tasks of their work?
Perhaps that is what happened to Mrs. Clinton. Day to day campaigning is rigorous. She just needed someone to ask her a question that reminded her of the reasons she was doing it.  We all need that at some time in our careers.  Some need the reminder more often than others.
Notice that this year the ads she is running are focused on what is important to her – her mother and her grandchild. I don't know about you but I can relate to that!!
I'll speak for myself here and say that I can get so wrapped up in getting things done that I sometimes lose site of the big picture.  For the last 4 months I have been working on updating my website.  While the website work can be fun and interesting, it isn't the kind of work that I would label my calling.
My website however is important because it provides me a means to engage in that calling.  It is through my practice that I have the opportunity to feel that passion as my clients find their own voices either by uncovering a new career, making their current career work or by building their businesses. As I get engrossed in my website I do need to remind myself frequently of the reason I am doing it.
The other part of the panel moderator's question seemed to imply that you find your voice once when you are young and that is it.  He asked, "Shouldn't she have found it by this time?"  Some people are lucky enough to find their voices when they are young and continue to express it in their work over their entire lifetime.  That does not happen for everyone however.  Some people don't find it at all, others find it at different points in their lives, and still others find their voice changing over time with each new job.  It is never too late to start searching for it.  (The Now What? Program is a way to find your voice.)
Sometimes however it may be that you need to rediscover that voice in a new job.  There are complexities to "finding your voice".  It is not just what you are saying but how you are saying it.
In the Hilary Clinton example she may have found her voice as a Senator, as a Secretary of State and as a public speaker but she hadn't quite found it as a candidate for President.   There may be different ways to connect to the new larger audience. It is your decision as to whether she has found it now!
How about you?  Have you found your voice?  If you have, it will allow you to communicate that excitement to clients or potential employers.  The spark within you will propel you into a successful practice and/or a fulfilling career.
If you haven't found your voice, here are some ideas to begin to uncover it.
Values are often important to using your voice.  When you speak out of your values, you tend to speak with passion and conviction.  Try the TruValues program by re-subscribing to my newsletter.  Go to http://www.asparker.com/samples.html and subscribe today. Tomorrow you will receive TruValues in your email.
Purchase the book Now What? 90 Days to a New Life Direction at Amazon http://www.amazon.com/Now-What-Revised-Edition-Direction/dp/0399173161/parkerassociates and take the quiz at the beginning of the book.  It will identify your blocks to finding your voice.  Interested in reviewing the quiz with me?  For $125 we'll go over the quiz and I'll give you some tips to begin removing the blocks. Sign up for the Now What program and I will credit the $125 toward your coaching sessions.
Once you have found your voice and know what you are passionate about, you will need to know how you present yourself to others and what that presentation says about you to other people. The DISC behavioral assessment will tell you this.  Now you can assess whether the way they perceive you and the way you want to be perceived are the same. If you want to change that perception a coach can help you to do that. My clients take the DISC assessment online and receive a very detailed and complete report back.  They are always amazed that a 10 minute assessment can provide so much information.  Interested in taking the DISC?  Call me at 781-598-0388.