Creating work-life "balance"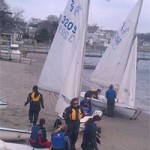 Work-Life balance is something I have worked on all my life.  Even as a newly minted teacher I was aware that I needed to leave time for both work and family.  With no children and a husband in school that wasn't too difficult even when I had to correct papers and write lesson plans at night.
Later when I had a sales job I was able to spend time with my family fairly easily.  In those days with no cell phones and few computers people worked 8 hour days and had evenings and weekends for family.  Whenever anyone suggested I wear a pager I resisted what I saw as an intrusion on my family life.  I was a top producer so my sales manager left me alone.
With the technology we use today getting time away from work has become increasingly difficult.  Work is just a click or a voice command away and it seems like we are always connected.  If you are struggling with work-life balance you are not alone.
Personally I think the term work-life balance is a problem.  With the number of hours we all work balance which implies equal amounts seems impossible.  I'd just like to have a way to structure each day so that I felt good about what I had done and not feel guilty!
Recently I've made a shift in the way I think about work and the other parts of my life.  Since they seem to be integrated now and not separated as they were in the past I use a technique I always have done with my work each day.
In the morning I have always asked myself, "What are the 2 or 3 work items that I want to get done today?"  Now I add a similar question, "What are the 2 or 3 non-work items that I want to do today?"  The number of items may be different for you but essentially I figure out how to structure my whole day.
You must of course have already determined what is most important to you.  This means you know your values.  Those values will help you to decide which of the many tasks you could do today are the ones that take priority.
The one thing I need to keep reminding myself of when I do this is to include some self-care time.  I'm good at taking care to spend time with friends and family.  I'm very good at attending to work priorities but I am not good at taking care of myself or finding time to do what I enjoy.
One way I manage that is to have monthly appointments for the things I love to do.  My book-club keeps me on track with reading for fun.  I have a regular hair cut appointment that I schedule every 5 weeks and a once a month appointment for a massage.  These appointments help me take care of me.
One caution however.  You get to decide on the right mix of work and other activities.  Don't compare your choices to anyone else's.  At any time you can change your priorities but do it based on your wants and needs not someone else's.
So where do you need help to "balance" your work and life so you feel really good about your day, month and year?  In my practice I use the Wheel of Life to help identify what's missing for my clients.