Ten Business Systems Necessary to Run a Business Profitably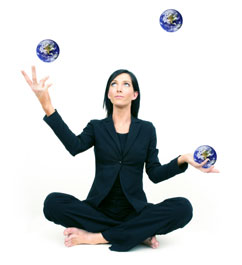 Good systems support the business owner by helping him/her to make good decisions. Instead of juggling the many tasks the owner organizes his/her tasks into processes or systems. Every business has several key systems that when run properly will help the business to be profitable. Monitoring the systems and watching key measurements in the system will help the owner to know when to make changes and when to keep doing the same things.
Having an operations manual for your business will allow you to have one place to go when you want to redefine a process or update a key measure. The operations manual is also helpful to new employees as they begin to learn how your business works.
If you are or plan to be a business owner having and monitoring your systems can prevent overwhelm and burnout so that you can be happy at work!
Prospecting System – What are the activities that you participate in on a regular basis that generate prospective clients for your business? Once you know the answer to this then you can define a system that works for you. i.e. It generates the number of prospects you need to fill your business with ideal clients or to sell amount of product you forecast. Be sure to define the steps of the system clearly in your operations manual and then work that system consistently by tracking the results to insure effectiveness. (See measurement systems)
Prospect Conversion System – What do you do once you have a prospect to convert him/her into a client? Define the step by step method to move the prospect from having many questions to having a thorough understanding of the benefits of the product or service so that they are ready to sign a contract or make a purchase.
Cash Flow System – How does cash flow through your business? Determine the amount of cash you need to keep your business running properly and then develop a process to review the cash flow periodically to see how the business is doing. Have a process in place to predict an excess of cash or declining amounts of cash. Develop methods to handle both conditions. This will help you to see why cash is so important to the life of your business.
Bookkeeping System – Keeping up to date with how your business is doing financially is imperative for the business owner. Keeping track of expenses will help you to make good buying decisions. Watching the inflows of your business will tell you if your Prospecting and Prospect Conversion Systems are working. This is an important system that can be done by using software or by hiring a bookkeeper. In either case the owner must look at the reports to understand if the business is profitable.
Billing System – Sending out bills on a regular basis helps to keep your business financially healthy. What are the inputs necessary for the bill to be generated? Be sure that those responsible for the inputs know when they are due and who gets them. Who is responsible for generating the bill? Define this important system and check to make sure it is followed properly. A late bill or a bill that doesn't explain the charges clearly can create customer dissatisfaction.
Payroll System – Whether you are a solo with part time help or a company with many employees it is necessary to define the time frames and methods that you and your staff will be paid. It is important to determine who is responsible for this system and what the inputs are that are necessary in order to have the system work properly. A poorly run payroll system creates employee dissatisfaction.
Hiring System – Define the steps you take in order to hire each type of employee in your business. What must be done before the hiring takes place? What is needed during the search? What is the decision making process? Once a decision is made, how are the candidates notified of the decision? All these questions must be addressed in your hiring system.
Appraisal System – Each employee is entitled to feedback on his/her performance during the year. Most companies have a formal appraisal at the end of the year. There are steps involved in the formal appraisal process as well as the inputs to that evaluation during the year. It is important to have your own unique process that is clear to employer and employee
Measurement Systems – Define the key measurements in your business and then a process to keep track of them throughout the year. Each measurement must be reviewed with a particular frequency and adjustments made to the business based on the trends the measurements show.
Workflow System – Define how the work flows within your business. i.e.How does a client file or order flow through the business? How does the phone get answered in your business and how does the call get handled? What happens when you take on a new client/customer? How does the work get tracked? Who makes the decision when there are conflicts? Define the inputs of each employee involved. Where are the handoffs within the workflow? Look for places with no coverage and define it.
If you have good systems, your business runs more smoothly. You have time to do your work and have a life too! You are happy at work. Systems also help to identify problems that are impacting your profitability.
Need help with your systems?
What is the weak link in your business and how can you improve it?  If you are not sure how or what to do to make your business run smoothly, hire a coach to help you.  I can help you to remove bottlenecks, strengthen weak links  and make the process work efficiently.  Fixing  a poorly working system will improve the bottom line and make more time available for the process owners.  To work with me, Alvah Parker,  on process improvement either email me or call me at 781-598-0388.