10 Ways Employers Can Help Their Employees To Be Happy at Work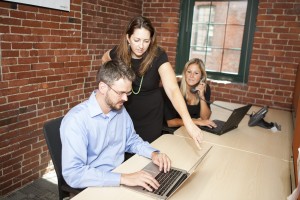 Employees that are happy at work are more productive and less likely to look for another job*.  They also can help you to attract new employees who are looking for a good place to work,  Employees who are happy are more engaged in the work they do and more willing to go the extra mile to help the company to be successful .  What can an employer do so that the employees in the firm are happy?
Know the values of your company so that when you hire people you know that the people share your values. Example: Winning, supportive, teaching, learning are values that may lead to very different companies.
Articulate frequently the vision of your company and how each employee supports that vision. Connect with your employees to show them how they make a difference to the company in doing their job.
Express appreciation and acknowledgement to employees. If you normally sit in your office make sure to walk around a bit several times a week.  Catch people in the act of doing something right and let them know you appreciate them.  Have periodic meetings where you reward and acknowledge top performers.  In a Massachusetts survey of workers each year they rank being appreciated, feeling that they are part of something meaningful, and having confidence in their future among the key factors that determine how they feel about their jobs.  At the bottom of the ranking-pay and benefits
Encourage employees to take their vacation time. Lead by example. Take your vacation too.  If you need some convincing that employee vacations are helpful to your businss read my blog article 10 Reasons Employers Should Insist Employees Take a Vacation.
Support and encourage work to be done during business hours. Discourage working more than 9 hours in one day or working 45 hour weeks.  Working too many hours day after day can lead to burn out.
Allow telecommuting for employees where it makes sense and flexible hours for employees who must be in the office. A study 1100 parents done by Flexjobs showed that 61% of the parents want to work because they enjoy their job and 85% wanted to be able to telecommute while 54% said they wanted alternative or flexible work hours
Empower employees to find their own way to complete their work. Reward results. Micromanaging sends the wrong signal to employees.  They feel less valued and less confident in their abilities.
Accept that at times an employee will fail. Help them to understand what went wrong and to learn from the experience.  Ask yourself if there is a lesson there for you too.
Help each employee to develop their skill set. Ask them what skills they want to build and how they want to use those skills in the work that they do.  Encourage growth of employee skills that help grow the business.
Encourage employees to take courses to either enhance their current position or to grow into a new position. Invest in your employees.  Happy employees mean happy customers.  Read the article Want happy Customers?  Satisfy your employees from USA Today.  Find the link on my Facebook page.
*From Fast Company article on 5-4-16
Feeling Stuck?
Feeling pulled in many directions?  Not sure what the right direction is for you at the moment?  With coaching you make your own decision and in the process begin to understand yourself better.  If you are stuck and keep going over the same thoughts time and again, it is time to break the log jam.  With coaching you will gain new perspective,  find a new path and you will know exactly what your next step will be.   If this sounds like something you would like to do, call me at 781-598-0388 to discuss your situation.